By Michael McHugh
Last Saturday, Celeste, a Peruvian restaurant located in Union Square, hosted the vernissage of a new public art installation by local artist Nicolás Carmona Guzman, titled Light shapes.
Celeste has earned a reputation for not only serving great ceviche, but also collaborating with artists and musicians to create a unique feel space that celebrates the culture of Peru and leaves a lasting impression on customers.
Light shapes is Guzman's latest piece, comprised of a range of colorful, geometric pendant lights in translucent polyester, suspended from Celeste's high ceilings. From studying architecture at Syracuse and Harvard University's Graduate School of Design, Guzman combines his architectural knowledge, experience working with lighting designers, and his own artistic vision to create a truly distinctive style that can be seen in all his projects. .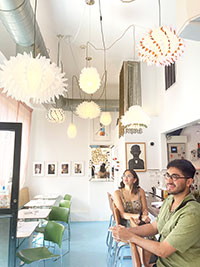 Attached with interlocking petals, the pendants' clever design serves as the perfect presentation of Guzman's work at the intersection of art and architecture. "Light has the ability to change the feel of space and how you can inhabit it," Guzman explained. "Thinking about lighting in a residential, domestic or small business context interests me because it affects everyday life."
The project was undertaken in conjunction with the Somerville Arts Council, which awarded Guzman a grant as part of an ongoing grants program to support local BIPOC artists. "They were born out of the onset of COVID, and we wanted to give artists money to relieve them. But it was also in response to the social injustice that was happening at the time, we felt like doing more for the BIPOC community in Somerville," explained Iaritza Menjivar, Events and Public Art Coordinator for the Council. Somerville Arts.
Although the grant program was paused this summer, they hope to restart it in the fall to give the many applicants another opportunity to have their voices heard.
"There are so many artists and designers and people who really have a very particular opinion on how to liven up a space, and they're all around us," Guzman said. "So I think the Somerville Arts Council has a really great opportunity to fund projects like this by providing resources to create something really special."